LABDOOR CERTIFICATIONS
Prove quality. Earn trust. Gain customers.
Get your products on Labdoor.com.
Certifying with Labdoor goes beyond a logo on a product label. Labdoor Certifications are the only certifications that are optimized for online marketing:
---
Labdoor Certified companies receive a customizable company profile on Labdoor.com that features all products tested by Labdoor.
---
Every Labdoor Certified product gets its own page on Labdoor.com, which includes all certifications, testing data, and links to buy your products.
---
These profiles and pages are popular on search engines and social networks and make it easy for anyone to learn more about your company and products.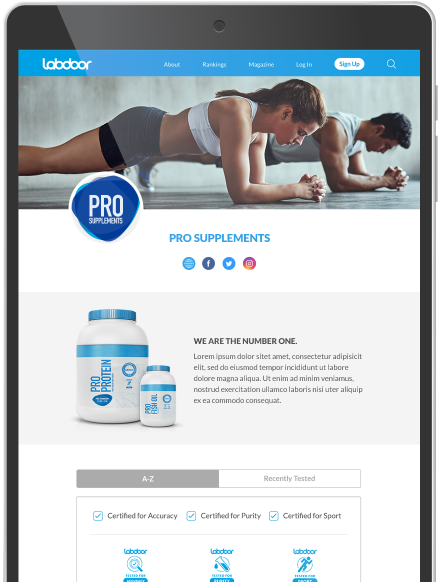 Available Certifications
TESTED FOR QUALITY
Validate the accuracy of your label claims, proactively prevent recalls with ongoing testing for pathogens, heavy metals, residual solvents and more.
TESTED FOR SPORT
Earn trust from athletes with ongoing testing of substances banned by the World Anti-Doping Agency (WADA).
Certification Standards
Labdoor performs analytical chemical and microbiological testing on product samples to ensure that each product meets our quality standards. A product must pass all qualification standards for a given certification program to earn that Labdoor certification. For specific qualification criteria for each certification offered by Labdoor, see:
Labdoor Certification Standards
.
---
Other Testing Services
Labdoor also offers
custom testing services
for a wide range of products and ingredients. Use Labdoor's scientific expertise for all of your product development, quality control, and quality assurance needs:
Get a Quote
.